After a successful international tour Joy Enjoy Joy will be presented in Theater Rotterdam again on September 8th. This time with an open, additional program that gives in insight into the artistic making process of the performance in an alternative, interactive way. Are you ready for joy?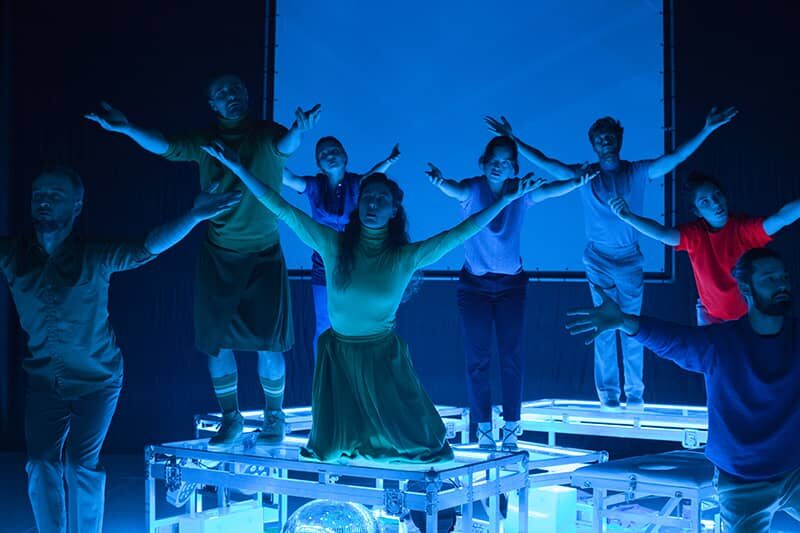 For Joy Enjoy Joy Ann Van den Broek got inspiration from aspects in daily life. What puts us in a joyful state of mind? A relaxing massage, the scent of baked bread, euphoric music, laughing and dancing together… She explored these elements with the research performance Creating Joy, which eventually resulted in the final piece, Joy Enjoy Joy. For this last performance she also got inspired by the body language from Tom Barman, front man of the Belgium band dEUS.
Different aspects from Van den Broeks inspiration are included in this additional program in Theater Rotterdam. There are message tables, laugh therapy, yoga and there's unique research material to be viewed. We give an insight into the personal creation process of Van den Broek with never shown images and there's a talk between the choreographer and Sanjoy Roy (dance writer for The Guardian), moderated by Eylul Akinci (artistic dramaturg of Theater Rotterdam).
Essays on joy
As part of the research process, international dance writer Sanjoy Roy wrote eight essays that provide new perspectives on the performances. The texts are a broadening addition to the joy diptych. The essays are bundled in a booklet that will be presented this evening.
Joy of the hip
It's difficult not wanting to dance after seeing Joy Enjoy Joy. Driven by the performers and the music, you will also want to feel the joy of the hip yourself. Luckily, this is possible this time! The Rotterdam based DJ Cijntje will turn the Haltheater into a discotempel after the performance, fully in style with the piece. Feel free to join in for a dance and a drink to celebrate joy.
Program
Start additional program: 18:30 hr
Start performance: 20:30 hr
"Joy Enjoy Joy is a double-edged ode to the joy of life, with a sharp edge."

– de Volkskrant (NL)
"Ann Van den Broek's ode to joy is very composed, making it unbelievably thrilling."

– Het Parool (NL)
Joy Enjoy Joy with additional program in Theater Rotterdam