Human behavior patterns, states of mind, and impressions that sprout from confrontations with my different living environments are my principal sources of inspiration. With every new creative process I look inside myself and try to comprehend the emotions and the behavior patterns that fascinate me. Then I look around me and get information from things that happen in the lives of others.
I am also inspired by contemporary society: a sign of the times, a recent phenomenon or a universal motif. In that sense, my work is also a critical reaction or rebelling against things that go unquestioned, are ignored or are generally assumed to be the norm. I feel the need to fight against conformity. However, this does not mean that there is a clear political, social or ideological message in my work.
I have never intended to make a loud statement. It is only a subtle undertone in my work. These behavior patterns, impressions, signs of the times and phenomena from my surroundings are the basis of the core concept of every new production and each time they are linked to the general underlying themes that are characteristic of my work: restlessness, struggle, resistance, compulsion/control, fanaticism, nihilism and activity/passivity.
Everyday activities are placed in a new context: movement and dance. Translating the selected core concept to movement is done through an in-depth and broad analysis. You could call this process a clinical analysis.
After thorough research, I then place the core concept under a microscope and dissect its different aspects and variations. As a result my final choreographies invariably have a precise, almost mathematically constructed structure that grows out of an in-depth analysis of the moving body. Furthermore, there is the element I refer to as the kaleidoscope: a concentric approach of limited dance/movement phrases that offer an infinite number of variations on the same theme.
My rehearsal process is always an investigation in my self-made choreographic laboratory. In the end this probing nature remains palpable. The core theme is approached from different perspectives and analyzed. In my dance/movement vocabulary different variations of one movement are often repeated until the precise, most deconstructed and purest form is found. The ultimate result of my research is always to penetrate into the essence of the movement; movements serve a purpose, but they are never merely illustrative.
This working method adds a tension-filled conflict between the irrational and the rational, intuitive expression and controlled, purely deconstructed movements to my dance/movement vocabulary. The result is controlled expression. The controlled movements serve as a rational framework for the basis of the movement, namely the uncontrollable human desire to spontaneously ventilate inner drives, feelings and frustrations. The intuitive or instinctive urge to display a particular kind of behavior is choreographically rationalized. This conflict is always palpable in my movements through various contradictions: exposing yourself/keeping your distance, letting it out/holding back, control/letting go, giving/taking…
This rational or (over-)analytical aspect of my work goes to further characterize the way in which I link/subject my movement material to a rigorous choreographic structure and to the requisite placement in the space. This choreographic structure forms a general rational and controlling framework that cloaks the uncontrollable. You could compare it to the way in which we try to control our emotions in public spaces.
I challenge my dancers; physical as well as mental limits are explored and constantly exceeded. The credibility of a movement lies in the decision you must take to make that movement. I want the dancer to execute a movement only because the moment necessitates that movement. Whatever the dancers do, it must be backed up by motivation. It takes a lot of time for dancers to grow into my way of thinking and moving. The dancers are trained to incorporate my dance/movement idiom based on their own unbridled imagination and an honest belief in their inner drive, and then to manifest it on stage; a method that is strongly influenced by Stanislavsky's method acting. I do not want to stress the technical qualities of my dancers; I want them to be people of flesh and blood who address the audience directly.
I strip the dancer of his/her 'aura' and 'elusiveness' on stage; the dancers are vulnerable, without eliciting pity. This 'humanity' often makes my work confrontational and yet at the same time somewhat familiar to the audience. The spectator in his chair is forced to relinquish his superficiality and his position as an observer. I want to provoke him to engage in the confrontation with his subconscious frustrations and desires. My goal is to communicate directly with my audience.
My approach to space remains sober, with little scenery, and is characterized by a spatial openness. Over the years I have a found the balance between the moving, expressive body and the abstract set pieces that surround it. Within my functional setting, it is my movement patterns that determine the mood and suggest that the movements take place in a more concrete environment.
To me life goes beyond the visible, beyond imagery. It is also determined by an underlying rhythm and characterized by energetic highs and lows. This translates not only into the rhythm of my movements, but also into the way I use music in my work. Music and sound play an integral part in the creative process of the choreography.
Through my work and characteristic dance idiom, I want to touch people, to make them think. I allow room for doubt and interpretation for the spectator, as well as for me.
Influenced by different styles and the media, I create my own mix of emotions and analysis. Raw, analytical, expressive, formal, filmic, temperamental, detailed, realistic: an original contemporary product.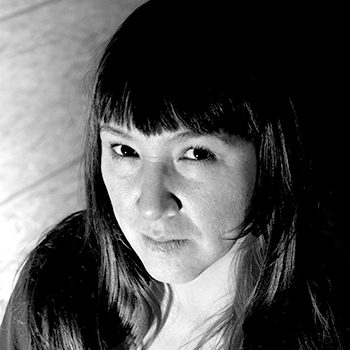 State of Dutch Dance
In 2018, Ann Van den Broek presented The State of Dutch Dance during the Nederlandse Dansdagen (Dutch Dance Days) in Maastricht. In it she expressed her concern about the runaway pragmatism in the Dutch dance world. She took her audience through various states: the State of Euphoria, State of Anxiety, State of Pain and the Point Zero State. Download the full text to read it.
The Lady in Black
Director Lisa Boerstra followed Ann for more than a year and a half for the documentary The Lady in Black. After seeing The Lady in Black it is clear how Ann, the person and the artist, is interlaced with her choreographies. "The documentary clearly reveals what a skilful theatre-maker Ann is." (De Telegraaf, NL) The documentary can be seen on the NPO website.
Portrait in TM
Ann Van den Broek made her first solo back in 1995. Creating at least one production a year since 2001 she has gone on to achieve a solid position in the dance world with her clear, accessible dance idiom and distinctive aesthetics. Her work contains intense emotions, but in the end reason prevails…