After a well-received Belgium premiere last spring, Joy Enjoy Joy finally returns to Antwerp. The performance – largely inspired by dEUS frontman Tom Barman – will be performed in Het Zuiderpershuis, the Flemish home of WArd/waRD, for the first time on September 17.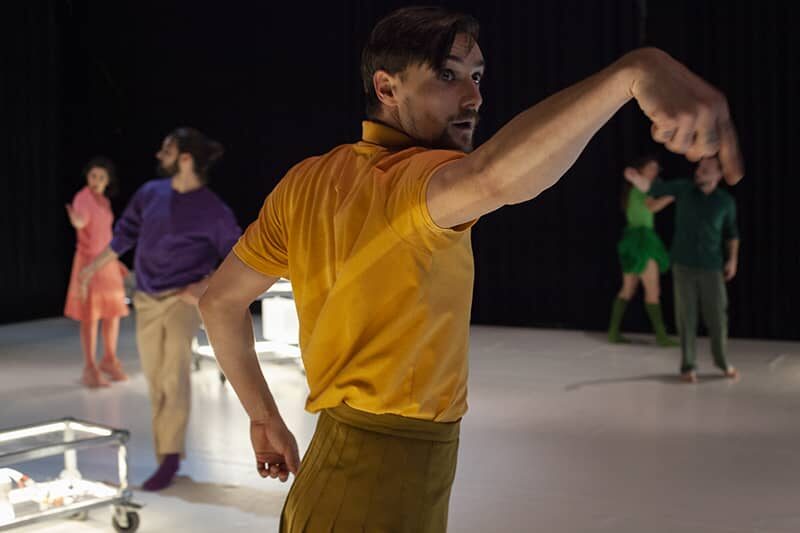 Often Ann Van den Broek gets inspired by musicians. For Joy Enjoy Joy she immerged herself in (the body language of) Tom Barman. Quotes of him, which originate from a conversation Van den Broek and the Flemish musician had during the research phase of Joy Enjoy Joy, are also part of the performance. The singing voice is the one of Gregory Frateur, known from Dez Mona. Music is composed by Nicolas Rombouts.
A glamorous dream
After dark themes like in Memory Loss and Accusations, Ann Van den Broek explores a seemingly lighter theme. To end up in the melancholic regions of pleasant, but past memories.  
Joy Enjoy Joy follows the flow of life, down-to-earth and dynamic. It is a steady, driving and pulsating stream, moving constantly, never stopping. A stream that shimmers like reflecting light. A glamorous dream, restless and full of energy.
Interdisciplinarity
With Joy Enjoy Joy Ann Van den Broek blurs the lines between various disciplines with WArd/waRD's characteristic combination of movement, music, texts and video. Performers speak, sing, dress and film themselves live during the performance.
Program
Start performance: 20:30 hr
"Joy Enjoy Joy is a double-edged ode to the joy of life, with a sharp edge."

– de Volkskrant (NL)
"Ann Van den Broek's ode to joy is very composed, making it unbelievably thrilling."

– Het Parool (NL)
Joy Enjoy Joy in Antwerp again