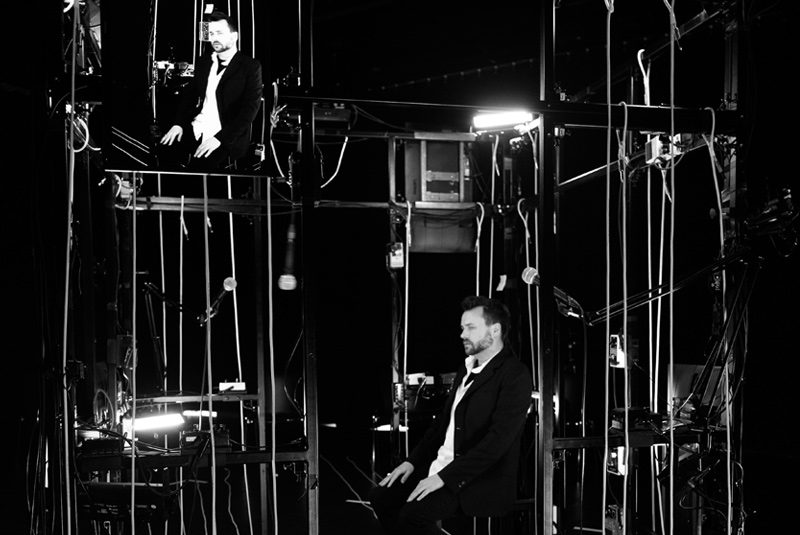 With Zooming in on Loss Soli, Ann Van den Broek makes an additional variation on Zooming in on Loss, the second performance from the triptych The Memory Loss Collection.
For these solos, Van den Broek creates a solo performance for each of the three original performers that takes place in the same framework/decor as the original performance. However, the co-performers are no longer physically present and hang around the soloist's world like a shadow from the past. Zooming in on Loss Soli focuses on the internal struggle, loss and relationship between the individual and his social environment. Anger and frustration, sadness and pain, resignation and indifference are exposed in a mosaic of emotions.
concept, direction, choreography Ann Van den Broek
original cast Gregory Frateur, Louis Combeaud, Marion Bosetti
video and lighting design Bernie van Velzen
set design Niek Kortekaas
music, text, lyrics Gregory Frateur, Ann van den Broek
sound installation Nicolas Rombouts
costumes Marielle Vos, Ann Van den Broek
photography Rio Staelens
premiere September 21, 2020, AVL Mundo, Rotterdam (NL)
Zooming in on Loss Soli is a performance that is created on the basis of the coronaregulations, observing 1.5 meters distance for both audience and performer.
WArd/waRD
Date
City
Venue
17 Dec 2020
Zooming in on Loss Soli
Rotterdam (NL), TR Schouwburg – 20.15 uur cancelled
17 Dec 2020
Zooming in on Loss Soli
Rotterdam (NL), TR Schouwburg – 16.00 uur cancelled
09 Oct 2020
Zooming in on Loss Soli
Eindhoven (NL), Natlab door Plaza Futura – cancelled
21 Sep 2020
Zooming in on Loss Soli
Rotterdam (NL), AVL Mundo – 19.15 uur
21 Sep 2020
Zooming in on Loss Soli
Rotterdam (NL), AVL Mundo – 16.00 uur
"Intense. Shocking. Emotional. These are just a few words that we link to Zooming in on Loss. As if we just felt what it is like to lose your memory step by step."

– The Daily Indie (NL) on Zooming in on Loss
"This second part in a fascinating cycle about dementia also has a dark tone."

– de Volkskrant (NL) on Zooming in on Loss
Zooming in on Loss Soli (2020)