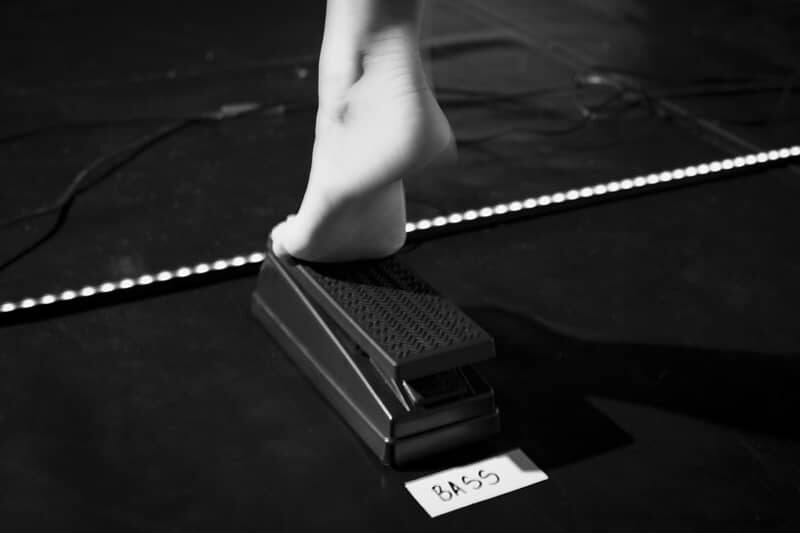 After dark themes and extreme exuberant emotions in Ohm and Joy Enjoy Joy, Ann Van den Broek searches for a poise with The Balancing Act. Balance in body, in mind, in daily life and in her choreographic work.
As the Flemish choreographer highlighted deep emotions and dark theme's that are very close to her, it is now time to find rest in a balanced center. This search translates to a very levelled performance. It undulates in flowing movements into an almost meditative trans. At the same time, this balance seems to be something that's never really graspable. It's almost falling, getting yourself together, and going on. The balance is so precarious that it seems elusive.
With The Balancing Act Ann Van den Broek again experiments with live video images and sound- and light effects. As we often see in her work, roles between dancer and musician fade. The performers manipulate sound, light and images with music pedals. Looking for the right volume, a good sharpness or a beautiful light in which life can be experienced. It creates a lively, installation-like setting along the boundaries of dance and performance.
For The Balancing Act Ann Van den Broek once more studied and researched the human body in great detail. The body as a scale. Everything working together. Every joint, every muscle. Just to not fall. Besides the physical balance, Van den Broek gets inspiration by our pursuit of a life in balance.
concept and choreography Ann Van den Broek 
performers a.o. Louis Combeaud, Nik Rajšek, Jean-Gabriel Maury, Marion Bosetti, Carla Guerra, Kamil Pilarski
music Nicolas Rombouts
pre-recorded voice Gregory Frateur
video- and lighting design Bernie van Velzen
scenography Ann Van den Broek
styling costumes Ann Van den Broek in collaboration with Marielle Vos
photography Rio Staelens
premiere October 4, 2023, Theater Rotterdam, Rotterdam (NL)
The Balancing Act by WArd/waRD is produced in partnership with Theater Rotterdam (NL) and Le Lieu Unique in Nantes (FR) and is financially supported by Fonds Podiumkunsten (NL) and Gemeente Rotterdam (NL).
WArd/waRD
Date
City
Venue
04 Oct 2023
The Balancing Act
Rotterdam (NL), TR Schouwburg – première
05 Oct 2023
The Balancing Act
Rotterdam (NL), TR Schouwburg
06 Oct 2023
The Balancing Act
Den Haag (NL), Korzo
09 Oct 2023
The Balancing Act
Amsterdam (NL), ITA
Tickets
12 Oct 2023
The Balancing Act
Tilburg (NL), De Nieuwe Vorst
Tickets
20 Oct 2023
The Balancing Act
Utrecht (NL), Stadsschouwburg Utrecht
Tickets
24 Oct 2023
The Balancing Act
Delft (NL), Theater de Veste
27 Oct 2023
The Balancing Act
Breda (NL), Chassé Theater
Tickets
03 Nov 2023
The Balancing Act
Haarlem (NL), Schuur
04 Nov 2023
The Balancing Act
Haarlem (NL), Schuur
09 Nov 2023
The Balancing Act
Drachten (NL), Schouwburg De Lawei
Tickets
10 Nov 2023
The Balancing Act
Groningen (NL), Grand Theatre
29 Nov 2023
The Balancing Act
Heerlen (NL), Parkstad Limburg Theaters
Tickets
"In The Balacing Act I am going to search for balance. Balance in life, balance in how to deal with time, balance between all kinds of emotions… and the physical balance."

– Ann Van den Broek