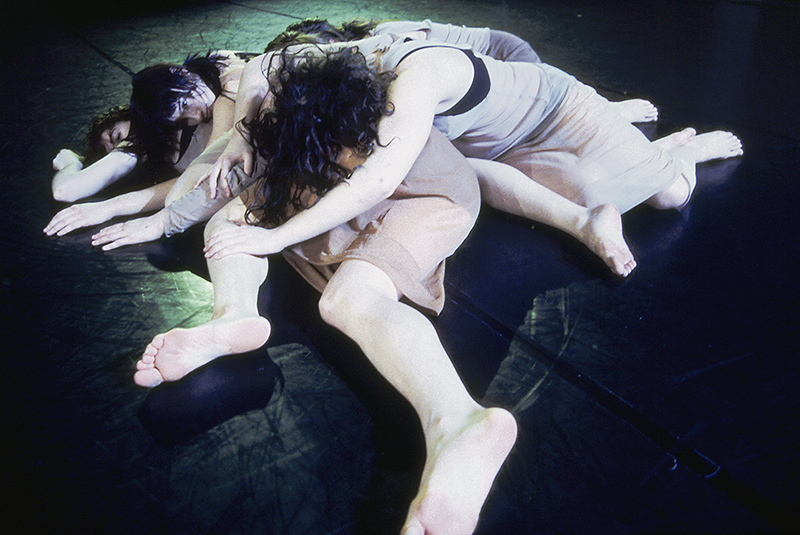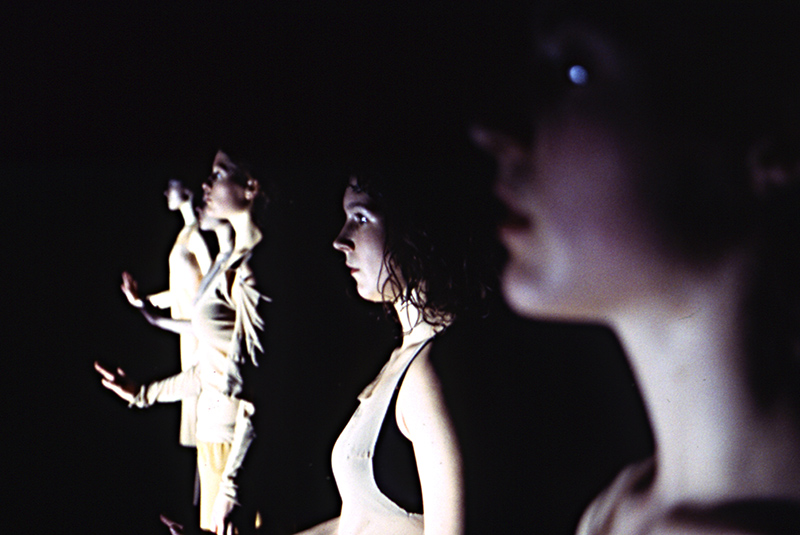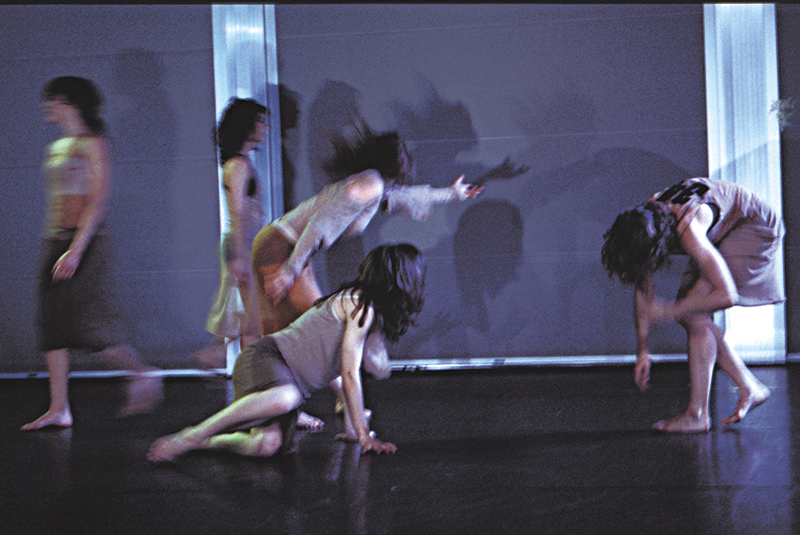 FF+Rew 60:00 is an extended and more profound version of FF+Rew, the choreography Ann Van den Broek created in 2002 for Dansgroep Krisztina de Châtel.
FF+Rew 60:00 shows five women in an alienating universe where every notion of time place and space are undermined. Their situation erupts from an emotional or physical blow, a moment of astonishment. They're dumbfounded; the blow is etched into their memory. Their movements are determined by a physical dialogue, turning away from something, returning to it. Bodies seize up. Bodies in overdrive.
Arne Van Dongen's music was created parallel to the choreography. His composition grew out of all the possible and impossible sounds that come out of a double bass, which were then enhanced and edited by a computer.
FF+Rew 60:00 was selected for De Nederlandse Dansdagen (Dutch Dance Festival) as one of the most important productions of the 2005/2006 season.
concept and choreography Ann Van den Broek
original cast Lie Antonissen, Estelle Delcambre, Dafne Maes, Frauke Mariën, Judit Ruiz Onandi
music Arne Van Dongen
lighting design Bernie van Velzen
styling costumes Ann Van den Broek
photography Maarten Vanden Abeele
premiere October 6, 2005, ccBerchem, Antwerp (BE)
FF+Rew 60:00 is a production of WArd/waRD (BE) in cooperation with WP Zimmer (Antwerp, BE) and co-produced by ccBerchem (Antwerp, BE) en CC Genk (BE). With financial Support of the Government of Flanders (BE) and the City of Antwerp (BE).
WArd/waRD
Date
City
Venue
07 Nov 2007
FF+Rew 60:00
Dilbeek (BE), CC De Westrand
08 Oct 2006
FF+Rew 60:00
Maastricht (NL), Nederlandse Dansdagen
10 Jul 2006
FF+Rew 60:00
St. Etienne (FR), Festival des 7Colinnes
09 Jul 2006
FF+Rew 60:00
St. Etienne (FR), Festival des 7Colinnes
18 May 2006
FF+Rew 60:00
Roeselare (BE), CC De Spil
06 Feb 2006
FF+Rew 60:00
Amsterdam (NL), Theater Bellevue
18 Jan 2006
FF+Rew 60:00
Tilburg (NL), De Nieuwe Vorst
26 Nov 2005
FF+Rew 60:00
Den Haag (NL), Korzo
16 Nov 2005
FF+Rew 60:00
Utrecht (NL), Theater Kikker
15 Nov 2005
FF+Rew 60:00
Utrecht (NL), Theater Kikker
13 Oct 2005
FF+Rew 60:00
Genk (BE), CC Genk
07 Oct 2005
FF+Rew 60:00
Antwerpen (BE), ccBerchem
06 Oct 2005
FF+Rew 60:00
Antwerpen (BE), ccBerchem – première
"The dancers deliver an intensely physical accomplishment, with plenty of groundwork which is both abrupt and controlled. Aside from all the energy, the choreographer also displays an astonishing command of time and place."

– Le Soir (BE)
"This is so much more than just a promising production."

– La Tribune Le Progrés (BE)